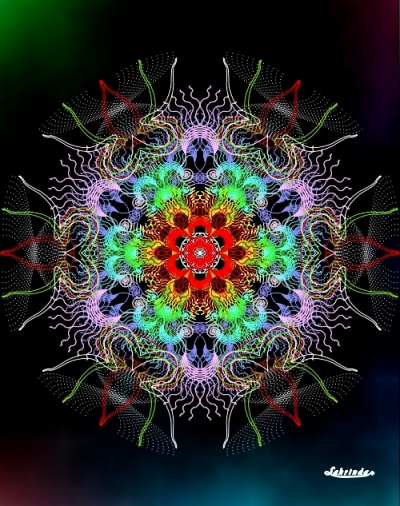 "The journey continues in new and ever surprising ways! Recently, I was peacefully playing one of my computer card games, without a thought in my head, when………I suddenly hear a voice, a big surprise since I live alone! It said, very clearly and joyfully, 'Loosen up!' This had never happened before, but I knew it was a much needed message. Friends over the years who have massaged my neck and shoulders call me 'old wooden shoulders'! So I took the message to heart and have been working with it ever since…"
Read more about 'Loosen Up!' and its playful, relaxing, releasing energies.
Additionally, 'Loosen Up!' can be found in the Symbalas for Attunement sub-gallery of the Print Gallery and it frolics its way onto many Symbala products in my Zazzle Store.
See a larger image of the 'Loosen Up!' Symbala:
Featured Symbala of the Month, September 2014.
See all past Symbalas of the Month:
Symbala of the Month Archive