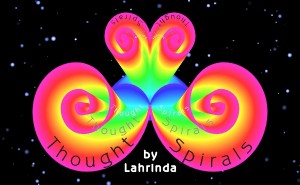 My thoughts for the day in the form of a Symbala.
Today inspired me to create a Symbala reflecting the energies of the 10-10-10.  Actually the date adds up to a '5' because we can't forget to add in the year.  The stimulation for me as an artist and a symbolist was irresistible.  My destiny card is a '10' and tens have the quality of stillness in motion,  taking the living process to a transformed level of sensory awareness.  Fives have an adapting action quality of freedom relating to human expression and symbolizing the flowering or 'quintessence' of life.
The Symbala burst forth with the feelings of growth, movement and change.  Feel familiar to anyone?  Take heart and relax because all this energy is balanced by the symmetry and integration emerging from the Golden Proportional structure:  as in the Symbala, so, too, in the universes.
Have a 10 star day!  With Loving Resonance,
Lahrinda