This has been a challenging year so far, for me and many I've talked with.  So it set me to thinking about happiness.  I tend to be on the serious side, but consider myself to be a mostly happy person.  But lately, not so much.  So I asked myself:  'When was the last time I felt truly happy?'
The answer came quickly.  A few weeks ago I took a short trip down to the Oregon Coast for a visit with my older sister and her husband, who live at the south end of Lincoln City close to the Siletz Bay.
This is their wonderful home.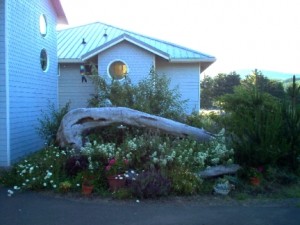 All the windows and a back porch face a small river behind the house.
 
I'm always happy when I'm here, but there's a particular time on this latest trip I wanted to share. 
I arrived on a Monday in the midst of a huge rainstorm.  Soon after I arrived, we went out to dinner at a restaurant that sits right above the 'D' River where it runs into the ocean.  I sat there looking at the ocean through a gray veil of rain.  However, I had a huge smile on my face!
That night I was in bed reading (in the guest apartment over the garage), and the storm really let loose.  The rain pounded and the wind threatened to carry the roof away!  I finally got to sleep and awakened to the gray light of a cloudy early morning.  But it wasn't raining and the wind was still.
I jumped into my clothes and was down on the beach (a few blocks away) before 7:00 AM.  Even when it's cloudy or wet the Siletz channel running into the ocean is dramatically beautiful.  And it certainly was that morning.  I took a deep breath and filled all my senses with the ocean magic.  I watched the seals swimming for a while and then headed for the rock beds while the tide was low.
 
Now we come to it – the moment of epiphany, when I realized I was completely and utterly happy in my favorite place, doing one of my favorite things as I bent down and picked up that first shining agate! (The yellowish stone in the left center of this picture.)
 
When one of those times comes together for you, there's no other way to describe it than pure bliss!  Of course, each of us will find that bliss in their own special time and circumstance, but treasure it and repeat as often as possible or, as Abraham Hicks would say, 'it's how to allow well-being'!
In Loving Resonance, Lahrinda