Busy season for sharing warmth with friends and family.  I shared Thanksgiving with my daughter and her husband.  That is not so unusual, but what was unusual was what we did before the big feast.
They had purchased 3 toy boats, 3 action figures, 3 rubber frogs and 3 rubber ducks and let it be known that we were going to have races! 
The night before the race we all decorated our boats with the stickers purchased for that purpose.  We also placed the action figures in the boats, which was a challenge since they weren't made for that.  The purple boat was mine, the blue was Melea's and the red belonged to Michael.
Boat Show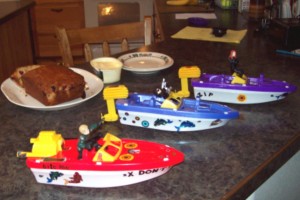 The next day after the turkey was in the oven we took our boats down to the course which Michael had laid out.  They have a seasonal slough that runs under their long and winding driveway.  He had laid boards over the creek so we could stand on them together and launch at the same time.  He also had a starting bar under the water and one at the finish, too.  He even had a stop-watch for time trials!  I couldn't believe how much thought, effort and imagination they had put into it.  I couldn't take a picture of all of us launching our boats at the same time so here I am just after launching my boat for the time trials.
Lahrinda Launches her Boat
Here come the boats, racing to the finish with Michael and Melea waiting and Yogi watching over them on the left.
Finish Line
 
We also raced the frogs and the little Christmas decorated rubber ducks.  We had some initial difficulties convincing Yogi not to jump in after them!
Canine Spectator 
The whole thing was a riot of fun and laughter.  And later, back in the house full of delightful cooking aromas, I had one more surprise.  Melea and I didn't know that Michael hid himself in the laundry room and spent more creative time to add to the celebration.  Here's what he made from materials at hand.  These were mine and that's Frank in the background.
Time for Awards!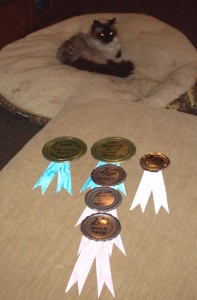 They were only can lids and paper, but I couldn't have been more pleased when I was presented with my awards, including 2 firsts.  And then it was time for the feast!
The Creativity Turns Yummy!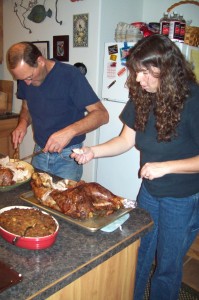 All in all, it was one of the most delicious, fun and creative Thanksgivings we had ever shared.  Staying in the present in the creative flow is one of the foundations of my life and it's so joyful to see those you love doing the same.  Let's all enjoy the holidays remembering to keep a childlike perspective.
In Loving Warmth and Resonance,
Lahrinda